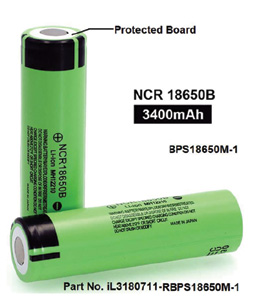 iHUMMR MIL Li-ion Rechargeable Cell
P/N0. iL3180711-RBPS18650M-1
We use Panasonic powerful high capacity genuine (Grade A) Protected version 3400mAh NCR18650B Li-ion rechargeable cell MIL-STD-810 Compliant for reliable and long life cycle. Please note that Tesla Model S battery packs are composed of Lithium Ion 18650B batteries proven for reliability & maintainability. Please review our Product Specification in PDF File Down Loadable form our website and our SCD Document provides essential information including performance specifications and how to properly use these cells.
| | |
| --- | --- |
| 1-5 | $7.95 |
| 5-10 | $6.95 |
| 10-25 | $5.98 |
| 25-50 | $5.45 |
| 50-100 | $4.95 |
| 100+ | Call or write for special pricing |
*Manufactured in Japan by Panasonic
SMART iHUMMR UC20M Multi-Bay Charger
(MIL-STD-810 Compliant)
iHUMMR UC20M Multi-Bay Charger is a smart universal charger that is capable of charging almost all Li-ion, Ni-MH, NiCd batteries. Smart iHUMMR can detect battery type and charge the battery automatically under your selected charging current. Our Charger unit features a Micro USB input port and a general USB output port. With LED indicators, you can read the charging process clearly. The built-in protection circuit allows you to charge your batteries without considering safety problems. Designed for portable, flexible and multifunctional, the iHUMMR UC20M is MIL-STD-810 compliant and your smart assistant when you are at home or traveling.
Delivery - Please allow 7-10 days for larger quantities
Why Choose Us
Easy Local Commute

You won't arrive to work sweaty and out of breath. In fact, you will arrive refreshed and relaxed with enjoyable commute to work.

Better Health

With the electric motor, you will become more active and achieve your fitness goals by manually pedaling when you can and manual Switching to the electric motor with auto torque sensor when you are tired.

Save Money

Save money on gas, parking, insurance, oil, breaks, other car maintenance items