ALFA1 Military Stainless Steel Canteen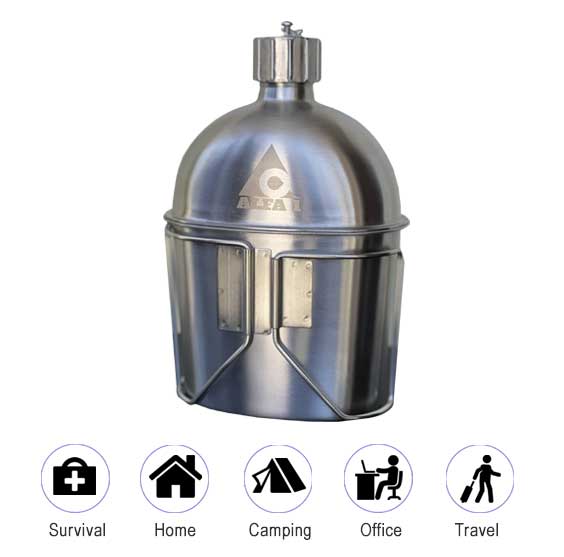 GEN2 ALFA1 GI Stainless Steel Canteen & Kidney Style is designed and manufactured to military specifications for Camping, Hiking, Outdoor/Recreational, Travel, Home, Office, School, and general use for fresh tasting, healthy water anywhere anytime… Its strong enough for the armed forces, it's definitely strong enough for travel, office, camping and other recreational and normal daily use. Our GEN2 ALFA1 GI Stainless Steel Canteen is compliant with USFDA, NSF and other applicable standards guidelines. GEN2 ALFA1 GI Stainless Steel Canteen's large electro polished mirror surface can also be used as a signaling device in lieu of mirror if the user is lost during hiking and other recreational activities in the wilderness or mountainous areas. The
GEN2 ALFA1 Canteen with CONCAVE and CONVEX mirror polished surfaces with special manufacturing electro-polish process can be used to reflect a diverging or converging optical beam of sunlight to rescue teams and helicopters.
GEN2 ALFA1 GI Stainless Steel & Kidney Style Cup are designed for compactness and ease of carry by perfectly nesting stainless steel canteen in the kidney style cup. Military specifications and standards are used as guidelines to manufacture and deliver a high quality, proven, and reliable rugged GEN2 ALFA1 GI Stainless Steel Canteen & Kidney Style Cup for many years of service to provide healthy, fresh tasting water anywhere anytime…
Features & Specification
Outdoor adventure equipment built to its durability and multiple use. Excellent addition kit to your survival in adventure tour.
Free of any hazardous chemicals such as BPA, phthalates, lead, or other toxins.
Ideal for hiking, camping, travel, home, office, hunting, extreme outdoor sports or enthusiasts
Electro Polish for ease of use and maintenance
All Gaskets US FDA and NSF materials
US FDA Stainless Steel Materials
Designed for military duty and field usage.
Why Choose Us
Easy Local Commute

You won't arrive to work sweaty and out of breath. In fact, you will arrive refreshed and relaxed with enjoyable commute to work.

Better Health

With the electric motor, you will become more active and achieve your fitness goals by manually pedaling when you can and manual Switching to the electric motor with auto torque sensor when you are tired.

Save Money

Save money on gas, parking, insurance, oil, breaks, other car maintenance items